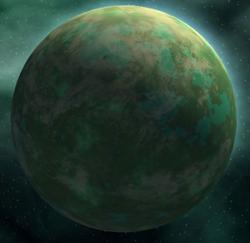 Yavin 4 was one of three habitable moons orbiting the gas giant Yavin. It was mainly covered in jungle and rainforest, and despite being remote and unheard of, it would play an important role in galactic events, including the seduction of Jedi Knight Exar Kun to the dark side and the destruction of Sith Lord Freedon Nadd during the Great Sith War, a ferocious duel between Jedi and Sith during the Clone Wars, and serving as the base of the Alliance to Restore the Republic during the Battle of Yavin and as a battlefield in other battles of the Galactic Civil War. An attack was launched on the Death Star from this moon. It also became the base for a Jedi Academy after the war ended.
Yavin 4 was composed of a molten metallic core with a thick, immobile low-relief silicate crust. The surface was made up of four continents which accounted for sixty-seven percent of the moon's surface. These continents were mostly covered in large sprawling tropical jungles with tall canopies though there were also a few mountain ridges like the Yunteh Mountains, dominated by volcanoes such as the Nicolo and Borundi Peaks.
Yavin 4 also had six interconnected oceans which covered the remaining thirty-three percent of the moon. There was also a large landlocked sea on the moon. As a relatively young world, the tiny jungle moon experienced a considerable amount of geothermal activity. Large rivers flowed dramatically from volcanic heights and then followed a more meandering pace through the jungles.
A native woolamander
When scouts from Wetyin's Colony on Setor discovered the moon decades before the current era, the colonists dubbed these continents the names of Starloft, Swivven, Koos and Wetyin, though the scouts eventually left the moon.
Species
Yavin 4's large, sprawling tropical jungles teemed with an abundance of life. Whisper birds soared above the thick jungle canopy. Packs of arboreal Woolamanders fed on fruits in the thick jungle canopy. The trees were also home to another rodent species known as the Stintarils.
Large and shaggy herbivores known as runyips rooted through the underbrush beneath the trees, while howler predators stunned their prey with loud cries. The moon's rivers also teemed with life including aquatic gundarks, mucous salamanders, crystal snakes, crustaceans known as anglers, crawlfish, serpentine thyrsl and armored eels. Swarms of vicious piranha beetles scoured the air in terrifying swarms hunting for prey.
Yavin 4 experienced two extreme seasons; a wet season which caused violent storms, and a corresponding dry season.
Locations
Edit